Seikagaku Corporation considers human resources to be an important corporate asset and seeks people who understand and put into practice our core values "creativity," "fairness," and "dreams and passion" and are capable of self-growth while fulfilling their roles with a sense of responsibility.
Seikagaku strives to provide fields in which employees can grow and thrive and promotes upskilling and career development through a combination of systematic education in various training programs, workplace education through day-to-day work, and job rotation. We endeavor to cultivate autonomous employees who go about their work with Passion and pride and produce results.
The curriculum for systematic education is depicted in the diagram below. We conduct a variety of training programs for everyone from young employees to executives with the objective of promoting the development of human resources required by each division and department and the growth of individual employees and the company. In response to the COVID-19 crisis, we continue to switch from group training to online training.
Also, in recent years, in response to dramatic changes in work styles arising from the impact of COVID-19, we have pressed ahead with improvement of the work environment and IT environment.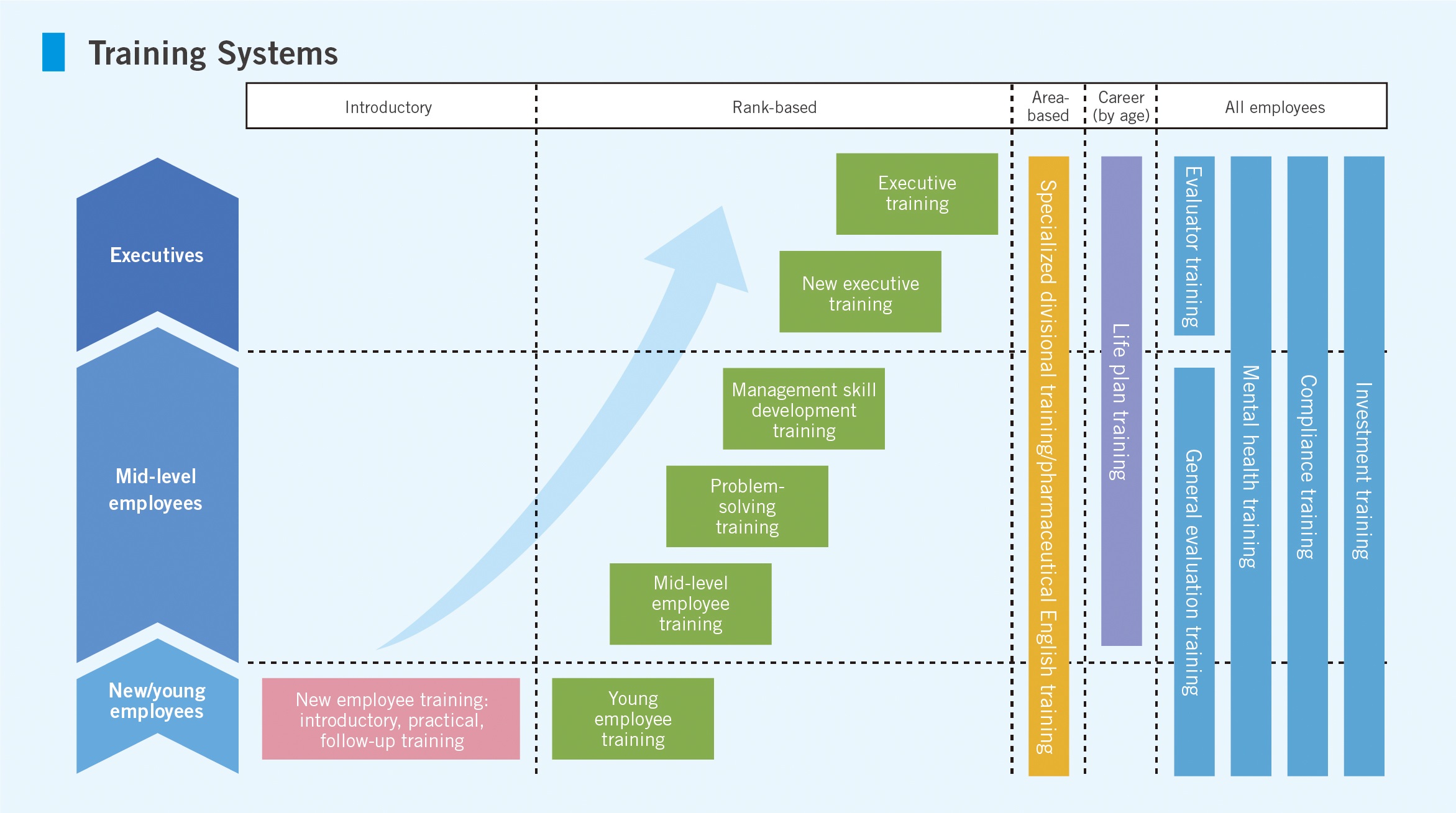 Seikagaku considers human resources to be an important corporate asset and strives to build human capital. Creating an organization designed to maximize the value of resources is an important measure set out in the mid-term management plan (fiscal 2019 to fiscal 2021), and we are implementing measures to develop people capable of flexibly responding to changes in the business environment and creating new value as well as organizational reforms to enable individuals to realize their full potential.
The Research & Development Division is realizing early and continuous launching of new products, which hold the key to future business growth, and increasing the number of projects through reinforcement of unique drug-discovery technologies and utilization of open innovation. The number of R&D personnel was 231, or 25.3% of the total number of employees, as of March 31, 2021. Seikagaku is also seeking to rapidly develop young employees by appointing and training them to be research team leaders and persons in charge of various production activities. We are also proceeding with a complete overhaul of personnel systems for the purpose of organizational reform and aim to apply revised systems during the period of the current mid-term management plan.