R&D Pipeline
Currently, our disclosed development pipeline is following.
Development Pipeline
<Pharmaceuticals>
Development code,
substance name

Indication

Developed in

Stage

Remarks

SI-6603
Condoliase
Lumbar disc herniation

USA

Phase III

Exclusive Worldwide License
Agreement (excluding Japan)
for SI-6603 with Ferring
Pharmaceuticals (Switzerland)
SI-613
Hyaluronic Acid-
Diclofenac Conjugates

Osteoarthritis

Japan

Launch
Definitive agreement related to
co-development and marketing
collaboration on SI-613 with
Ono Pharmaceutical

Knee osteoarthritis

USA

Phase II

SI-613-ETP
Hyaluronic Acid-
Diclofenac Conjugates

Enthesopathy

Japan

Late-stage Phase II

Definitive agreement related to
co-development and marketing
collaboration on SI-613 with
Ono Pharmaceutical
SI-614
Modified Hyaluronate

Dry eye

USA

Phase II/III

SI-722


Chondroitin Sulfate-
Steroid Conjugates

Interstitial Cystitis and

Bladder Pain Syndrome

USA

Phase I/II
<Medical Devices>
Development code,
substance name

Description

Developed in

Stage

Remarks
SI-449
Cross-linked Chondroitin Sulfate

Adhesion barrier

Japan

Pivotal study
Outline of development theme
SI-6603 (treatment for lumbar disc herniation - developed in the U.S.)
SI-6603 is a treatment option for lumbar disc herniation with the active pharmaceutical ingredient of condoliase. This is therapeutic agent with intradiscal administration. It does not require a general anesthesia and is less invasive to the patient than surgical treatment. As this agent specifically degrades GAGs in the nucleus pulposus, resulting in decrease in the pressure on the nerve root by a single administration of the agent, Seikagaku believes that this new treatment option is able to contribute to quality of life of the patient.
The Japanese Ministry of Health, Labour and Welfare (MHLW) approved the New Drug Application (NDA) of HERNICORE 1.25 units for intradiscal injection in Japan, indicated for the treatment of lumbar disc herniation, on March 23, 2018. HERNICORE was launched on August 1, 2018.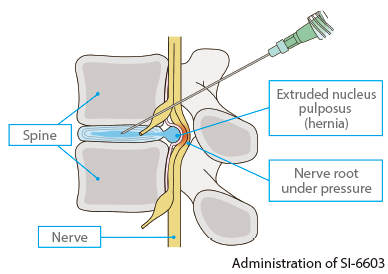 SI-613 (treatment of osteoarthritis - developed in Japan and the U.S.)
SI-613-ETP (treatment of enthesopathy - developed in Japan)
SI-613 is a formulation in which hyaluronic acid and a diclofenac (anti-inflammatory drug)are chemically bound using Seikagaku's own proprietary technology. SI-613 was designed to provide pain relief and anti-inflammatory effect by sustained release of diclofenac, and the joint function improving effect by hyaluronic acid. It is expected to provide prompt and sustained relief of the severe pain and inflammation associated with osteoarthritis and enthesopathy. Since SI-613 is administered directly into the joint cavity or near the tendon or ligament enthesis as an injectable treatment, the transfer of the NSAID into the systemic blood is extremely low, and it is expected to mitigate the risk of side effects reported in oral or transdermal administration of NSAID.
Seikagaku have obtained a new drug application for manufacturing and marketing approval for SI-613 in Japan, for the treatment of osteoarthritis (knee joint and hip joint), on March 23, 2021.
And Seikagaku have launched on May 19, 2021.
In the U.S., a Phase II clinical study targeting knee osteoarthritis has been completed, and the Company is considering a Phase III study while proceeding with selection of a sales partner. Data analysis of a late-stage Phase II clinical trial in Japan of SI-613-ETP for the treatment enthesopathy has been completed, and the Company is considering the next clinical study together with co-development and marketing partner.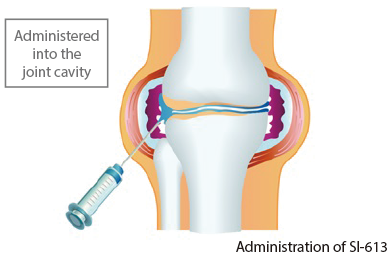 SI-614 (treatment of dry eye - developed in the U.S.)
SI-614 is a modified hyaluronate that is produced using the Company's proprietary technology. Ocular instillation of SI-614 in patients with dry eye is expected to protect the ocular surface and promote corneal wound healing. Through development of SI-614, the Company aims to improve the quality of life of patients by providing a new option for the treatment of dry eye.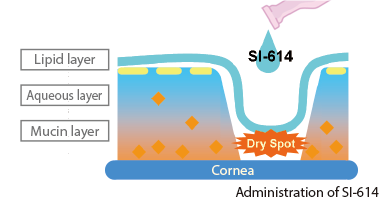 SI-722 (Interstitial Cystitis and Bladder Pain Syndrome - developed in U.S.)
SI-722 is a novel chemical compound in which a steroid is conjugated with chondroitin sulfate using Seikagaku's proprietary glycosaminoglycan modification technology and drug delivery systems (DDS). SI-722 injected into the bladder is thought to demonstrate long-lasting improvement in the conditions of frequent urination and bladder pain by releasing a steroid with an anti-inflammatory effect. SI-722 has completed a Phase I clinical study in the U.S. In November 2019, it is starting a Phase II/II clinical study. This clinical study will evaluate the drug for safety, tolerability, and pharamcokinetics, and will conduct an exploratory evaluation of its effectiveness.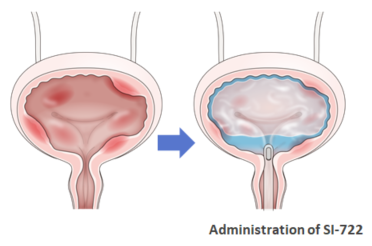 SI-449 (adhesion barrier - developed in Japan)
SI-449 is a powdered adhesion barrier whose main ingredient is cross-linked chondroitin sulfate developed using Seikagaku's own glycosaminoglycan proprietary technology. SI-449, which has the property of absorbing moisture and swelling, is expected to prevent or mitigate post-operative adhesion formation by forming a barrier between the surgical wound site and surrounding tissues after application. Since a clinically useful effect was confirmed in a pilot study of SI-449 initiated in May 2018, a pivotal study to confirm adhesion prevention effect, safety, and operability was initiated in May 2020.
Seikagaku is considering introducing SI-449 not only in Japan, but in global.