Fiscal 2019 to Fiscal 2021
While the abrupt changes to the business environment surrounding the pharmaceuticals industry are becoming ever more severe, the need to lay out a growth path once again makes the continual creation of innovative new drugs an imperative for the Company. In parallel with this, the Company is embarking on initiatives based on a speedy transition to rapid earnings improvement and promoting reforms that are not constrained by existing frameworks.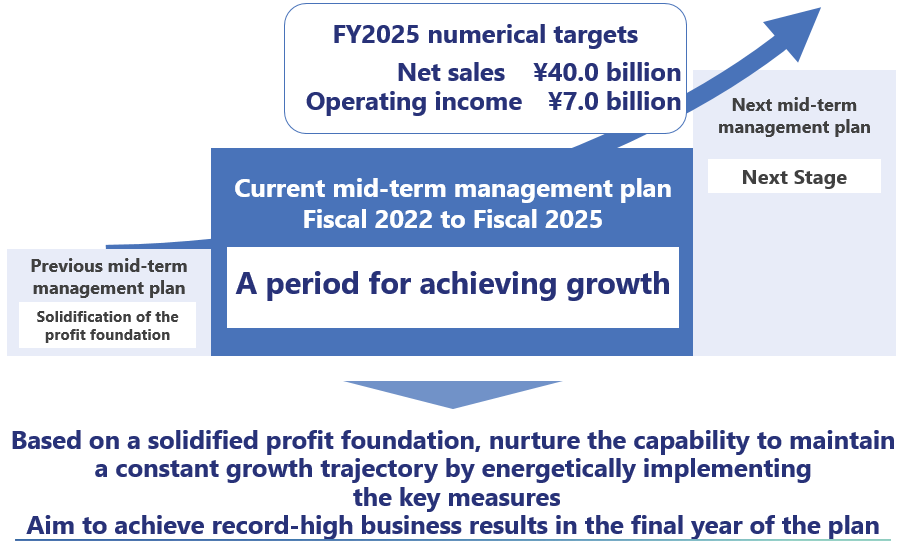 Under the new mid-term management plan, Seikagaku positions the plan period as one for solidifying the profit foundation in order to delineate a path to growth once again. To this end, the Company will proceed with the following important measures.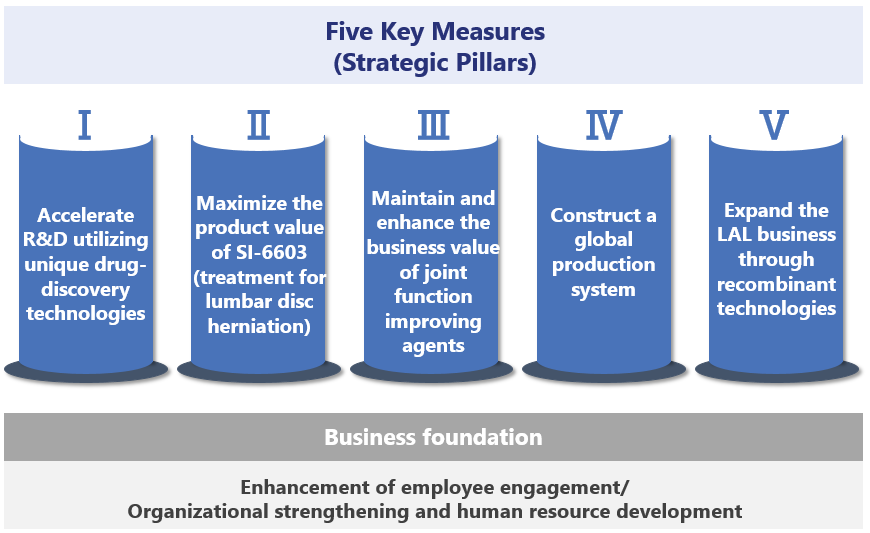 I. Accelerating new drug discovery to become the pillar of new profits
Strengthening and making use of the Company's own core technology related to GAGs
Leveraging drug discovery technology held by Seikagaku to the fullest extent and raise the possibilities for innovative drug discovery.
<Main technologies held by Seikagaku>
a. New drug development based on modification, processing, and bioactivity
b. Drug delivery systems (DDS)
c. Use of platform technology and a next-generation GAG drug development approach
Accelerating innovative drug discovery using an open innovation strategy
In addition to the technologies in its possession, Seikagaku will proactively undertake initiatives toward technology having high affinity with other companies, maximize synergies, and expand the number of projects in new drug development—all to speed up its work.
Steady expansion of the development pipeline with an eye toward global expansion
Seikagaku will quickly foster the development of SI-613, a treatment for osteoarthritis and enthesopathy, as a new core product by applying for and successfully obtaining drug approval, and by achieving launching. Seikagaku also aims to step up clinical studies for SI-722, a treatment for interstitial cystitis and bladder pain syndrome, and SI-449, an adhesion barrier. With regard to SI-6603, an indication for treatment for lumbar disc herniation, the Company will focus on speeding up additional study for the Phase III clinical study as it pursues a full effort toward a U.S. market launching.
Ⅱ. Solidifying the profit foundation through market expansion for new products
Post-marketing drug development of HERNICORE in Japan
Seikagaku places priority on information provision activities to ensure appropriate use and safety as well as the collection of after-market safety information. Upon agreement with the authorities while coordinating with relevant scientific societies, the Company will work toward gradual expansion of requirements for available medical practitioners and facilities together with steady market penetration. The Company will also advance the disease awareness activities related to lumbar disc herniation for patients.
Accelerating multinational expansion of existing products and products in development
By expediting the cultivation of new markets for existing products and products in development to maximize product value, Seikagaku seeks to solidify its medium- to long-term profit foundation. It will also be actively engaged in product improvement and application development in accordance with medical treatment needs in the targeted expansion regions.
Global expansion of endotoxin-detecting reagents that utilize genetic recombination technology
Overseas development of the Seikagaku Group's LAL business is under its U.S.-based subsidiary, the Associates of Cape Cod, Inc. (ACC). With expectations of future adoption, ACC aims for global expansion of gene-recombinant endotoxin-detecting reagents, leading to the securing of a new profit foundation.
Ⅲ. Productivity improvement reforms
In manufacturing costs, as a result of a project that is already underway, Seikagaku will conduct a review of procurement costs and the optimization and streamlining of production, leading to greater assurance of product profitability. In selling, general and administrative expenses, the Company will improve work efficiency and make sure that thorough cost reductions are actually done. Furthermore, in order to carry out new drug development continuously, it will address efficient use of R&D expenses determined by priority.
Diversifying the profit model
Regardless of the business model up to now, the Company will carry out a vigorous examination of ways in which to produce new profit.
Creating an organization for maximizing the value of resources
Seikagaku will advance organizational reform that enables flexible responses to changes in the business environment and the nurturing of talent that can create new value, and which also lets each person demonstrate their potential to the fullest.