Seikagaku Corporation ("Seikagaku") sees compliance as a fundamental principle for conducting corporate activities and defines compliance as "respecting ethics (social norms) and complying with laws and regulations, external standards, internal regulations and other rules in the conduct of business." Based on this understanding, Seikagaku implements a Compliance Program, including a Compliance Code of Conduct and various compliance-related systems.
Seikagaku has established compliance standards and procedures and an accompanying Compliance Program for their implementation. Seikagaku has also developed a Compliance Code of Conduct and other relevant regulations to facilitate proper implementation of the Compliance Program across all its business activities. Seikagaku also provides employees with compliance training and other opportunities to learn about compliance.
<Outline of Compliance Code of Conduct>All Seikagaku employees shall comply with the Compliance Program and, without getting mired down in "corporate ethics," they shall conduct business in good faith and fairly, striving to base their thoughts and actions on the high ethical standards expected of a life sciences company rather than on the pursuit of corporate profit or personal achievement.
Business activities
Seikagaku shall market highly effective, high-quality drugs and other products (hereinafter "products") and shall provide accurate product information to ensure products are used safely and properly.

Relationship with patients, consumers, medical institutions and suppliers
Seikagaku shall maintain fair and sound relationships with patients, consumers, medical institutions and suppliers by communicating effectively with them.

Relationship with shareholders and investors
Seikagaku shall attach importance to investor relations and promote management transparency, aiming to be a company that is trusted by its shareholders and investors.

Relationship with employees
Seikagaku shall respect the human rights and personalities of individual employees and provide a safe, pleasant work environment that is free of discrimination.

Relationship with political and administrative bodies
Seikagaku shall have a fair, transparent, sound relationship with political and administrative bodies based on an understanding of their purpose and responsibilities.

Relationship with the global environment and society
Seikagaku shall value harmonious coexistence with society and shall act as a good corporate citizen, actively working on its own initiative to contribute to society and protect the global environment.

Relationship with company property and information
Seikagaku shall use company property and information in an appropriate manner and tighten personal information and confidential information management procedures.
Seikagaku has established a structure for implementing the Compliance Program as shown below to facilitate its proper implementation.
[Diagram of Implementation Structure]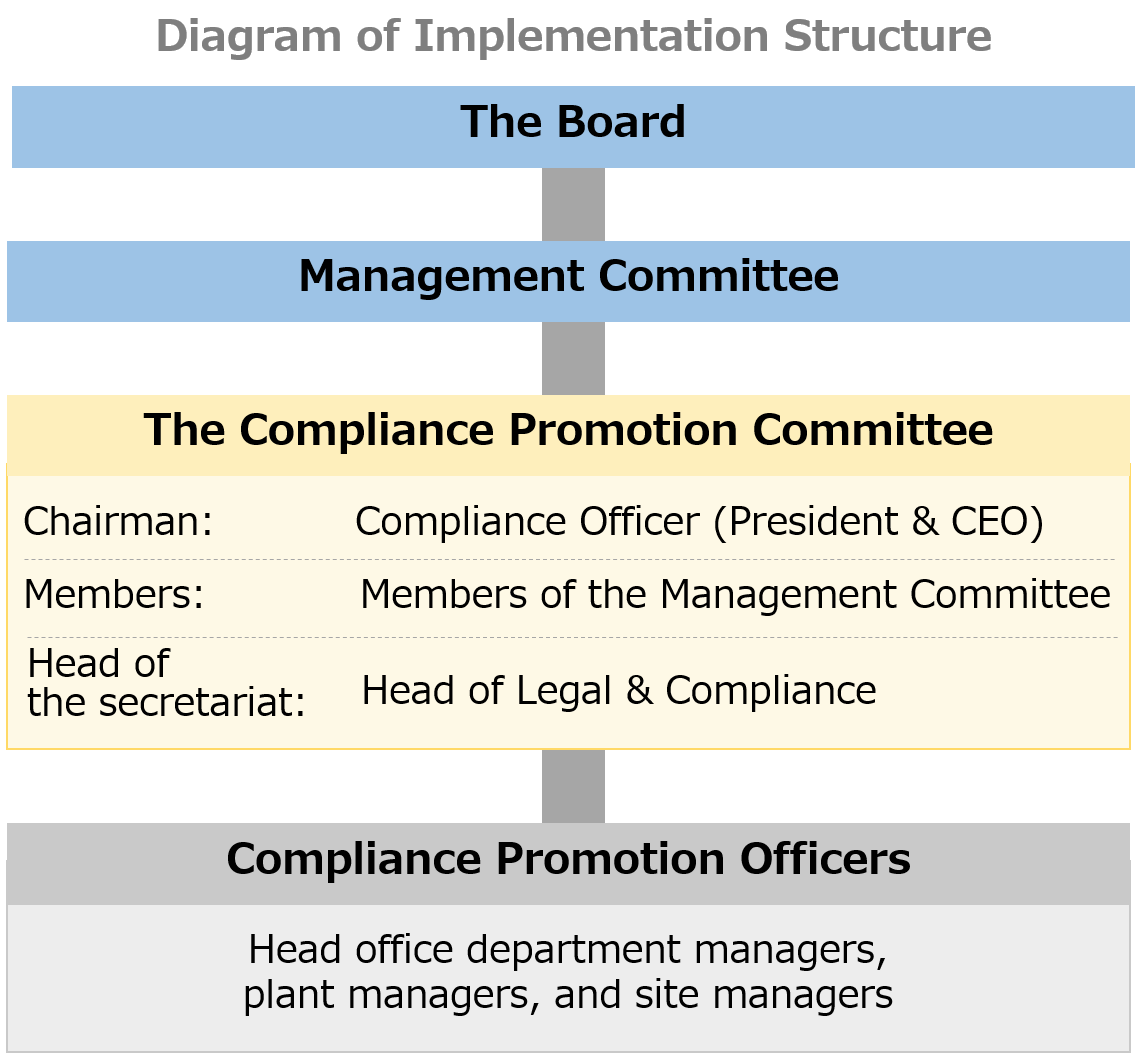 <Role of Compliance Promotion Committee>
The Compliance Promotion Committee is chaired by the President & CEO and made up of members of the Management Committee. The committee approves measures to promote compliance in accordance with the Compliance Program and supervises the status of their implementation.

<Role of Compliance Promotion Officers>
General managers of headquarter, general managers of labs and plants, and presidents of Seikagaku's affiliates are appointed as Compliance Promotion Officers. They are responsible for implementing the Compliance Program in their respective divisions, carrying out self-inspections, and also implementing the resolutions of the Compliance Promotion Committee.
Besides being closely connected to the proper execution of business, the Compliance Program is also important for maintaining a pleasant working environment for employees.
Seikagaku has established multiple internal and external consultation contact points for the early discovery of compliance program violations or suspected violations and the resolution of problems.
[Consultation and Reporting Route]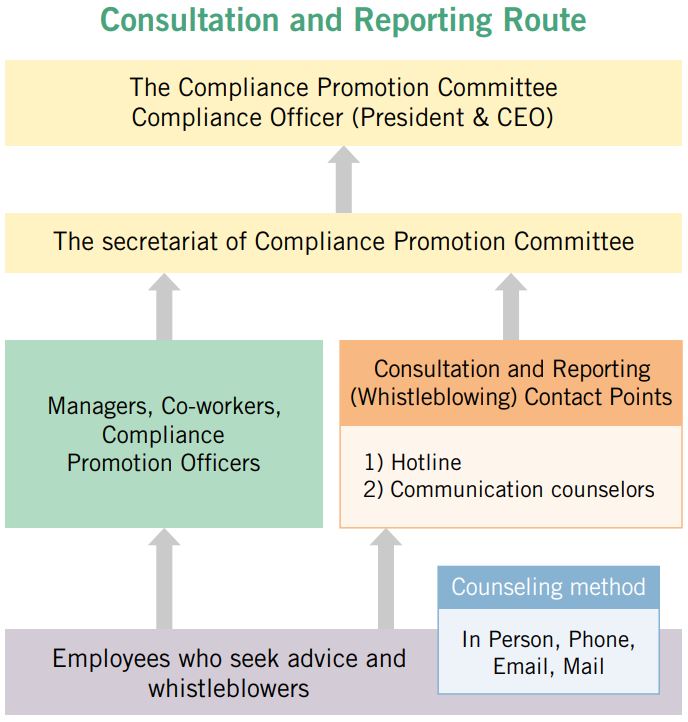 [Protection of employees who seek advice and whistleblowers]
Seikagaku gives the highest priority to protecting the confidentiality and privacy of employees who seek advice and whistleblowers.
Information about employees who seek advice, whistleblowers and those involved shall be disclosed on a need-to-know basis and their privacy and anonymity shall be protected.
Seikagaku stipulates in its internal regulations that sufficient care must be taken to ensure that whistleblowers and those who have cooperated with investigations do not suffer any detriment as a result of speaking out.

In other measures to promote compliance, Seikagaku provides internal training on specific compliance-related themes every fiscal year to constantly raise compliance awareness.